www.RACERSLOUNGE.com Proud to be Affiliated with Coyote Racing!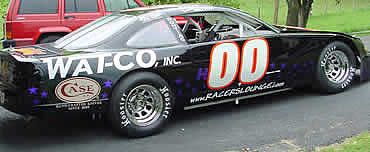 Local Racing Needs Your Help!
If you would like to help racerslounge promote racing at your local area race facility, please Contact Us for more information on what you can do!
Racerslounge.com is not your average, ordinary, racing news site. We are looking to help promote the small divisions and local area racing.
We are dedicated to the promotion and preservation of racing at the local level. Our goal is to help promote local racing and racing at levels that still are within the reach of the everyday working person.
Visit your local tracks every weekend. Support local racing, whether it be circle track, road course, drag, boat racing, or even lawn mower racing. Get out and support all of them!
How Can You Help Local Racing?
Tell your local race officials about www.RACERSLOUNGE.com.
Tell your friends, tell your neighbors, post it all over the NET! If you visit other sites, tell them about this site.
If you are a local track, series or competitor and you want coverage on the NET, email your releases to our news link news link.
If you have images you would like to see on the net of local racing, send them to photos link photos link.
We are especially interested in older pics from eras gone by!
---
You should be supporting this site!
---

www.Dynalive.net
Need the best in dynamic website design? Your site could be the best! Sites designed specifically for YOU! No "template" cookie-cutter sites here... Contact www.Dynalive.net today!